Inle lake is roughly 20km long and of outstanding beauty within its natural surroundings. The area is inhabited by the Intha people living on floating villages and houses on stilts, famous for their unique leg-rowing technique and for growing a wide variety of products on floating gardens. Not to be missed are the colourful Shan State community markets held on a traditional rotating basis according to the Buddhist Sabathdays.
In the surroundings there is Kalaw, a former colonial hill station, on the western edge of the Shan plateau and the Pindaya Caves where there are 8.094 Buddha images.
Inle Lake and around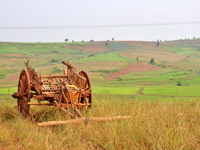 Kalaw
Situated 70km south west of Taunggyi, at an altitude of 1320m, Kalaw sits high on the western edge of the Shan Plateau. This was a popular hill station in the British days, and it's still a peaceful and quiet place with an atmosphere reminiscent of the colonial area. From Kalaw there are good trekking and hiking possibilities to the neighboring hill tribe villages which still function the same as they did centuries ago.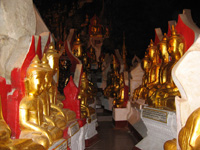 Pindaya
Pindaya lies in an altitude of 1,200 meters surrounded by hill tribe villages. Its main attraction is the natural limestone cave that branches out widely, displaying more than 8,000 Buddha images made of wood, marble, lacquer, brick, stone and bronze. Many devoted Buddhist pilgrims have placed them there over the centuries. The collection of these images in such a setting is unique and worth seeing. Pindaya also features the picturesque Boutaloke Lake, beautifully set amongst huge old trees. A major handicraft industry in Pindaya is umbrella manufacturing. The making of these pretty hand-made paper umbrellas can be seen in several workshops in town.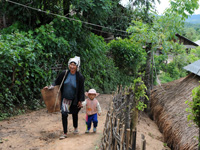 Kyaing Tong (Kengtung)
Kentung is 160 km equidistant from Laos, Thailand and China (Yunnan) borders. Surrounded by Wa, Shan, Akha and Lahu villages, it is the historic centre of the Khun culture.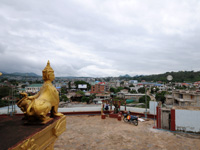 Lashio
Lashio is the trading centre for northern Shan State at the beginning of the famous Burma Road leading into China. From Mandalay you can reach Lashio by road or by train in a day. Lashio has one of the most colourful markets in Myanmar. Each morning Chinese, Wa, Shan, Myanmar, Lisu and Palaung nationalities gather for their daily shopping. It is a mountain town at 855 metres. Quan Yin San Chinese Temple, hot springs and New Pyi Lon chan Tha Paya are among some of the places to visit.